The Vulcan Cylinder Record  Company
Welcome
We make hard-wearing, plastic cylinder records for use on Edison, Columbia and similar cylinder phonographs. We have a range of records in standard 2-minute, 4-minute, 6-inch long and 5-inch diameter Concert formats.
If you are unsure of which of our records will play on your phonograph; or of anything else to do with our products and services, visit our FAQ page.
To see the most up-to-date list of our titles, please go to the Catalogue page.
If you wish to have your own material recorded on cylinder please visit the Custom Work page to find out more. We offer our expertise and resources for television, radio and film work as well as for education and museum projects. Please contact us to discuss your needs.
If you would like to be added to our mailing list for updates on future releases and other items of interest, please let us know through the contact page.
Download our PDF catalogue, updated May 2015
This PDF version of our catalogue will be revised quarterly.
I've stopped buying original cylinders, only buying yours now. I am amazed at the quality of your products and the pink Lambert was over the top. I love it!
Scott
New Releases
To listen to sound samples, please click on each link
Composed and played by Matt Redman.
Recorded in 2015 in the Sheffield studios of the Vulcan Cylinder Record Company.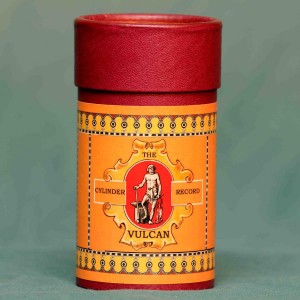 For more information about Matt, please click on the link above to go to the Shop.
Matt wrote La Carnauba Waltz especially for his recording session with Duncan at Vulcan Records.
Of the guitar he used for the recording session, he says:
The Gibson L-4 archtop acoustic guitar played on this record dates from 1911, the year after the steel tailpiece was patented to hold metal as opposed to gut strings. It is played with a tortoiseshell plectrum producing greater overtones and volume than plastic or bone. The top is carved out of one piece of spruce and its timbre has more in common with a cello than a flat top guitar. The oval sound hole gives a rounded, even timbre with a rich mid-range compared to later f-hole style archtop guitars and a focused sound.
The Gibson L-4 can be thought of as the first true 'rhythm guitar' traceable back from those that dominated pop music of the 20th century. Designed to compete with trumpets, saxophones and drums not just to accompany solo voice or mandolin.
* Words from a customer:  (This) is a really nice recording. Crisp, clean, as if Matt was in the room.