Vulcan Cylinder Records has been privileged to be invited to work with the National Library of Norway in its project to preserve and make publicly available as much of its archival material as possible. Included in the material is a collection of cylinder moulds made by Christian Leden between 1909 and 1955, as he recorded indigenous folk music in Greenland, Canada, Norway and later in Chile, Argentina, South America and Easter Island, though apparently the material from these last expeditions was never edited or published.
Here are some exerpts from the National Library of Norway's website, regarding Leden: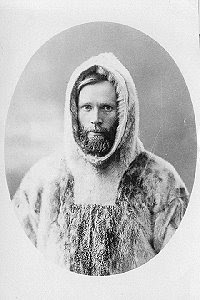 'Christian Leden is considered a pioneer in the use of the phonograph for collecting music, and he is also the first to record film from the northern Arctic region. In addition to music he collected objects typical of Greenland's culture, and also took photographs.'
'In 1909 he went to North Greenland with the famous Danish Arctic explorer Knud Rasmussen.'
'… Leden argued in favour of preserving Norwegian folk music. On his own initiative he travelled around Norway, making many valuable recordings during 1937 – 1938. He also argued for the establishment of a National Music Collection. '
For the rest of the story, go to http://www.nb.no/highnorth/leden.php
Our involvement, at Vulcan Cylinder Records, was to take the 200+ cylinder moulds that have been in storage, and to clean them, repair where necessary, and make recordings from them. It is likely that this is the first time some of these recordings have ever been heard.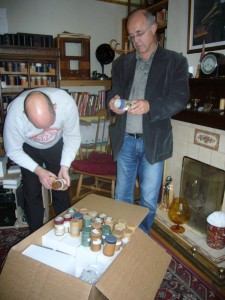 This has been an exciting project, as we received and carefully catalogued the moulds, amazed at the pristine condition of some and by the corrosion and rubbish on others.
After very careful cleaning, to find most of the moulds in very good condition, to produce the records and then to listen to the results, has been truly amazing. The first batch of cylinders has now been received back in Norway, where they will be listened to, analyzed, oohed and aahed over and then carefully stored away, though now they can be made available to researchers and listened to over and over again.
Duncan, of course, used his wide experience, his own tried and true methods and his own, fairly recently developed, durable plastic to produce long lasting and hard wearing cylinders that can be played many times without any signs of wear.
Here are some photos of Duncan with Lars Gaustad, from the National Library of Norway, when Lars came to visit us recently, to see for himself what we were doing for the project.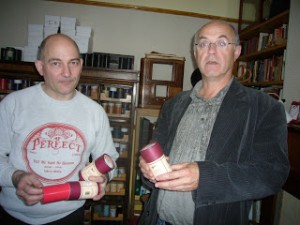 This is Duncan and Lars, looking at the latest batch of cylinder moulds we had just received …
… and here they are with some of the newly produced recordings, in their specially liveried boxes.