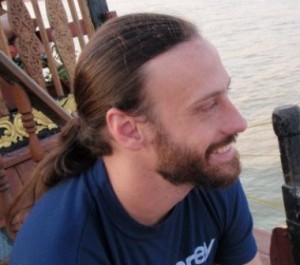 The song, The Title of This Song is Longer Than The Song, came off the album, Let There Be Rock (a tribute to ACDC).  This album was the first death metal release to be recorded in Myanmar (Burma).  Burma was, at the time, the second most oppressed country in the world, behind North Korea, and the government controlled everything, with spies to match.  It took almost six months to get the music and lyrics past the censors. The recording took place in Rangoon, where an armed soldier had his gun out the entire time – made for an interesting recording environment.
All the music was written by me – I also played the bass tracks and did the vocals.  I had a couple of Myanmar guys lay down the drums and guitar parts, but they did not want their names released in case the government got upset about the whole thing.
And get upset they did – during the recording process, when we were adding some extra vocals and guitar bits, the army came in, pointed a gun to my head, and demanded we stop immediately – they took all the recorded materials.  Luckily I had made a copy of the master before they arrived, which is what ended up on the cylinder.  Out of the 8 songs planned, only four were finished – it was released as a four song EP.
There were accusations of witchcraft and demonic possession (I don't think my vocals were THAT bad), and that was the end of Myanmar's experiment with Western death metal.  The studio was destroyed in a flood a few months later, and I was not granted any more recording permits.
Only 50 copies of that initial release were made, and over the past year I thought it would be nice to find a way to do justice to the bizarre origin of the record.  When I heard that cylinders were still being made, it seemed like a perfect fit – what better way to celebrate the release of the first death metal album in Myanmar's history than with another first?  The first (as far as I have been able to determine, anyway) death metal song released as a cylindrical phonograph – that makes it doubly obscure.
The song was my attempt to meld Nirvana and Iron Maiden together.   Ironically enough, it was the soldier's idea to have an acoustic guitar part towards the end, and I think it came out pretty well.